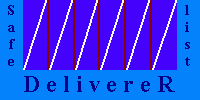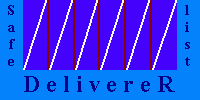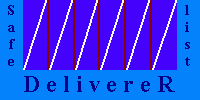 Welcome to this Deliverer Safe List 'about' page...
the safe list with the two, yes two, BIG differences...you get to SORT YOUR MAIL into categories! No more deleting thousands of off-topic emails in busy mailboxes; no more autocleaning those million dollar business deals; and, what's more, no worries about spam! Not only that, you can also select an adjustable TRICKLE SERVICE to always keep you permanently in touch with your customers, and you can also SEND WHENEVER you like, even on vacation - just login and mail! It's that simple. So don't delay, sign up today and make more of your business with this Deliverer Safe List!

















---
JoeGeo
Your ad here
Your ad here
---
The idea for Deliverer Safe List came from a disappointment in the way safe lists work and the way they are used by the Internet community. The idea is basically good; simple but effective. A list of people who express an interest in receiving email from each other form a group and send away! But there are big problems with flooded mailboxes, autocleansing, unread sends and off-topic mailings. This Deliverer Safe List is an attempt to make a great idea work even better. I develop the idea of categories of emails to enable readers to only receive emails they are particularly interested in. The categories are:
Internet advertising or related content e.g. safe lists, traffic exchanges etc
Finance or related content e.g. multi-level marketing, randomizers etc
Health or related content e.g. weight loss, anti-aging, health foods, medicines etc
Shopping or related content e.g. malls, sales, special offers etc
Other types of content e.g. unknown websites, list builders, affiliate programs, energy systems, geological, sport etc
Article about Elucidated Normal Email [ENE] codes in busy mail boxes.
You can also choose to cut the Deliverer Safe List output to a small percentage (c. 5%). This enables you to use your regular mailbox for deliveries and you can keep in touch with your customers more effectively.
Deliverer Safe List will be developed from its launch so please check back regularly to see if it has something to offer YOU.
Now you can download your own copy of the software and run it on your own server. Build your own list of contacts and grow the Deliverer Safe List community with me!
I am currently working on building the DSNetwork and developing the software which is currently Version 4. New pages are in HTML5 - see the mobile page. Unfortunately, I had to forget about the 'outpost' with the .co.cc domain as they wanted to charge for it already. It was very useful in testing the automatic configuration system I devised for version 4.
I am currently launching a new credit-link system (2014). 2014 is Deliverer Safe List's 10th anniversary, and now you can get credits for clicking links. At the moment you need 5 credits to be able to send to the list. Please, feel free to submit a support ticket if something doesn't work, but don't forget the FAQ page.
Thanks are due to Matt Wright, John Callender at lies.com , Mr Herrman, David Medinets, Vivek Gite and the Indian soldier for their publications which helped explain PERL and its application to safe list technology. I lost much information in a crash and if they care to come forward I can give them a better reference. Thanks are due, also, to all the cybercafe owners and managers for their professional computer systems which help to keep Deliverer Safe List up and running.
Deliverer Safe List offers a 16-day, money-back guarantee. Your sign up information will not normally be given to any third party.
---
Your ad here
---
Please feel free to contact the proprietor:

Nigel 'Leon' Barksfield eFax... your int'l code then 15093561706.
Deliverer Safe List About Page created 14th, April 2004.

..protected. Copyright Deliverer Safe List ©2020.